The ability to turn on any girl is a gift that very few guys have. I have come across guys who approach girls and within minutes she would be drooling all over him. I used to be fascinated by this unique talent and cursed myself for not being born like them. But after carefully noticing their actions and talking to them, I understood that arousing a girl is not a gift only a few possess. Anyone can acquire the talent of turning on any girl they want by simply sitting next her. Let me tell you how.
The guys who can turn on any girl follows a straight forward system to arousing the girl. They achieve it through their charm, wits and through lots of verbal and non verbal communication. WTF… You just said anyone can acquire the talent of making a girl horny and wet and now you are saying I should be charming? If I was a charming guy, would I be reading this stupid article?
Wait a sec.Hear me out first. Charm alone cannot arouse a girl. To make a girl go gaga over you, you need to know how to turn her on. Like I mentioned, they use a proven system to achieve this and it works. Let me show you the 7 step process that you can follow to make her wet and horny while sitting next to her.
Let me tell you, this isn't easy.
The trick here is create a vibe and sexual tension between you and her so that she starts getting turned on. Make sure you do not jump any moves or indulge in the next step before the earlier one or you may just end up losing the whole cause. An opportunity to get a girl horny while sitting next to her can't be preplanned most of the time.
So use any opportunity you get when you see one similar to the chances mentioned here.
How to make a girl horny
To make a girl feel horny, you first need to build the sexual chemistry between both of you. You need to flirt with her, tease her and make her like your attention.
And when you feel like there's some secret chemistry in the air, just sit next to her, use these tips and watch her get aroused in no time!
#1 Sit really close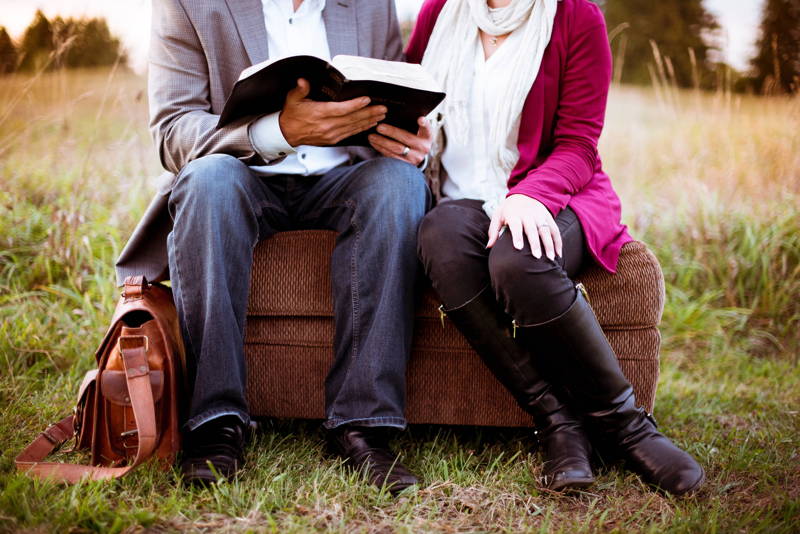 The first thing you should do when you're with this girl you're sexually attracted to is to find an excuse to sit really close to her. Take out your smartphone and show her that cool new app you found or that long interesting article you think she will like. If you don't know what she likes, then your safe bet is that cute baby and cat videos.
When you sit next to her, make sure you're sitting in a tight spot so your arms are touching each other's. Even if there's a lot of space to sit on, squeeze close to her and immediately shift her focus to the smartphone in your hand so she's too distracted to slide away from you. Make sure the naked part of your arms are touching each other because the soft grazing of both your arms is crucial to rouse the sexual tension and turn her on. When your skin touches her skin it releases a spike of oxytocin hormones into her body and warm her up to you.
#2 Keep her interested
Now that she's touching you, she will be obviously conscious about it. You need to keep her distracted from the touches by having an interesting conversation. What ever you do, do not talk flirty at all. It'll raise her guard and you will loose your chances with her. You will get your chance to flirt later.
Once you finish explaining about the app or finished watching the video divert her attention by gossiping about something you heard or reveal a little secret about some celebrity. The idea here is to keep her distracted about the fact you are sitting too close for liking. If you can keep her excited with something while talking to her, she will forgive you for invading her personal space.
#3 Start talking flirty with her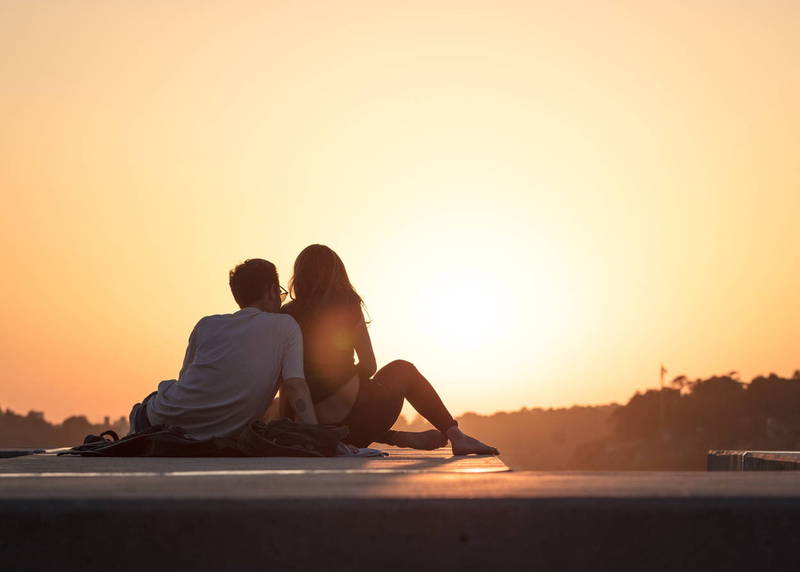 Now that you have made her comfortable with your invasion of your personal space and touching, you can start to flirt with her. Make sure you do it discreetly at first. Compliment her about something to start with. Be very subtle or she will move away from you. You are trying to make her horny, not creep her away.
You can use compliments like "You smell great", "I like the way your nose cringes when you laugh", "You have really nice eyes, it shines when you smile", "I love the way you tuck your hair behind your ear, its cute". If you do it right that'll charm her and yet make her blush without moving away from you.
Keep the conversation going casually and drop a few comments or flirty lines now and then. Don't over do it. If she is not moving away from you, it means she likes whatever you are doing. If you have already talked dirty before or have flirted over texts, then it would be a good time to bring few of those lines into the conversation to remind her of the sexy times both of you have shared.
It is often easier to make a girl horny if you both have to sit next to each other for a while with no interruptions, be it in a boardroom or a library, or even while travelling in a train or bus. No matter what the location is, have an interesting conversation with her and she will warm up with you eventually.
#4 Touch her fingers
If you have correctly followed all the steps above, she should be warmed up to you by now. It is time to take it up a notch. Find an excuse to touch her fingers, either by brushing her palm with yours or by giving her something to hold. If she has long nails or recently colored it, you can also use it as an excuse to touch. Or if that doesn't work, touch her fingers and compliment her ring or her bracelet. Compliment her about her delicate fingers or how smooth it is. She would have sensed your intentions by now, but as long as keep the pace slow and enjoyable, she'll like your sensual touches.
If you are not getting any excuse to touch her fingers, use the age old flirting technique of pretending to read palms. It works all the time and will even work if she knows you have no idea about palmistry. Flirt with her and say something naughty when you see her palms. Just make sure you warm her up to your touches.
Play it safe and slow. No matter what, make sure these little moves both of you are indulging in is discreet. All your effort will go to waste if she feels awkward or uncomfortable.
#5 Whisper into her ears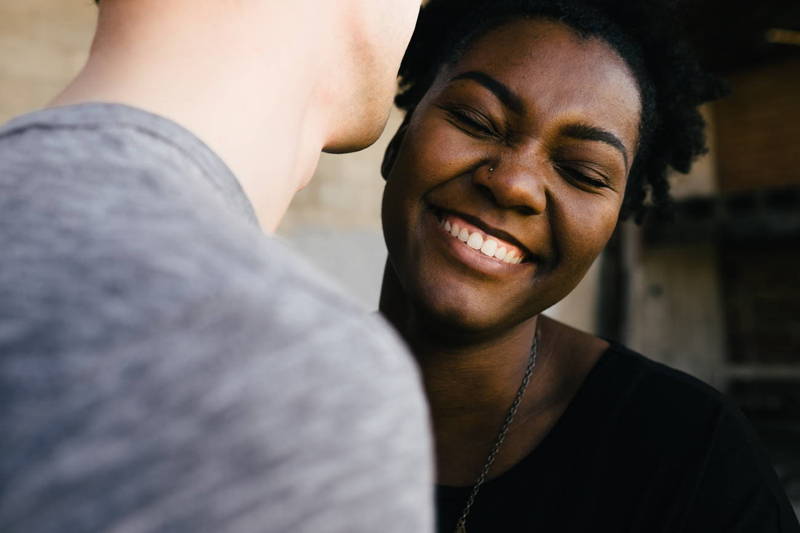 She would be aware of your sexual advances by now and if she still has not moved away from you, then it means she is liking it. The trick to getting her wet is to make her excited with your advances and keep wanting more.
The best way to achieve this is by getting close to her face using the excuse of whispering something into her ear. Do not crack a joke or be funny while whispering. If she laughs, it completely kills the mood. Go near her ear like you're whispering something and compliment her again and say you just had to compliment her about the same thing again.
If you want to get straight to the point, whisper into her ear and ask her if she'd like to hang out with you later. Whispering something intimate like a date request with some heavy breathing in the background will make the hair on the back of her neck and hands stand. And make sure your lips graze her ears so she can feel a hint of a teasing kiss on her ear.
This trick works best in places where there are other people around you who are preoccupied with something else. Movie theatres, bus journeys, the backseat of a car with friends when another guy is driving, or if both of you are at home watching a movie are perfect times to indulge in the whispering act.
#6 Reach out from across her
Now that you've been touching her and whispering into her ear, it's time to take it to the next level. Find an excuse to reach out to something from across her. As you reach your hand out to pick something up, make sure your arm or shoulder grazes her breasts or other intimate body part. Play innocent and don't jerk back or look at her awkwardly. Make it seem natural, like you're an innocent boy who's doing nothing wrong.
If her breasts are out of reach, move your hand across her back or over her thigh, or just about any place that you wouldn't touch in other casual situations.
She will be aware of your touch and will be looking at you for some kind of a response. By touching her intimate body and not reacting to it, you will come across as naughty and not a pervert.
But a word of caution though. To make this move work, you have to feel the sexual tension in the air. If you don't feel it, don't try this move. Repeat steps 2-5 until you feel the sexual chemistry build up. If you touch her intimate parts without she feeling the sexual tension, you will end up creeping her and ultimately ruin your chances with her for a long time.
#7 Read her body language
You have been trying to make her horny and get her wet for some time now. But how will you know whether it is working or not? There are certain tell tale signs for that. If she is horny, it will show up in her body language.
If she starts speaking softly or moves closer to you, then chances are she is as horny as you are right now! Repeat the flirting, teasing, touching and reaching out to body parts now and then for as long as both of you enjoy it.
If her breathing is quickened and her breasts are stiffened up while you graze your hands against it or you find that her T-shirt has become tight, then you have done it. You have successfully made a girl horny as hell while sitting next to her.
Final Step – Asking her out
Right now both of you are horny and it would be a shame if you let your raging hormones go to waste. You can continue teasing and playing with or you can use this chance to close the deal. Go close to her ear and ask her if she would like to come over to your place for drinks.
If you are in a situation where you both cannot get out, then wait for some time till you pop the question. If you're with friends or colleagues, make an excuse and get out separately. Meet her outside and take her to your place and let your raging hormones do the rest.
There you have it. I use this whenever I am around a girl to whom I am attracted and it works all the time. Use this 7 step process to make any girl wet and horny as hell while sitting near her. Follow the instructions without skipping and you can thank me later.